The bathroom is one of the most used and most important rooms in the home – that's why you need to give special care when picking a bathroom contractor in North York. At Refined Renos, our team is renowned for a commitment to quality and customer service, ensuring that your new bathroom is beautiful while adding value to your home.
Superior Bathroom Renovation in North York
When you work with the team of talented contractors at Refined Renos, you can be sure that all of the work is done according to code by experienced technicians who are fully licensed and insured to work on your home. We are a comprehensive bathroom contracting service that takes care of all the details such as:
Installation of bathroom fixtures and finishes
Plumbing and electrical
Drywall
Bathroom floors
Bathroom lighting
Shower renovations and shower installations
Tub-to-shower conversions
Accessible bathroom upgrades and retrofitting
And more
Bathroom Renovations at Affordable Prices
Our expert designers and contractors at Refined Renos work with all types of budgets to ensure that you're getting the highest quality with the most exciting bathroom renovation ideas.
While most bathroom renos in North York cost about $10,000 to complete, we will deliver superior craftsmanship no matter what your budget is. We believe a beautiful bathroom is always within your reach.
Our Specialties
Bathroom Fixtures
Refined Renos gives you access to the widest selection of colours, functions, and finishes when it comes to selecting the right fixtures for your bathroom.
Our team of master bathroom renovation contractors will work alongside you to help pick the fixtures that are perfect for the design of the space and the needs of your family.
Bathroom Flooring
The team at Refined Renos specializes in bathroom flooring installation. We can help you pick the perfect material that looks great, feels good to walk on, and will last for many years to come.
We carry the greatest selection of bathroom flooring in North York for you to browse through. And don't forget to ask about our heated flooring option for the ultimate luxury bathroom experience.
Bathroom Plumbing & Electrical Work
Behind every beautiful bathroom is an intricate design of plumbing and electrical work that needs to be done correctly. Our master plumbers and electricians will make sure that all the work is done safely and meets all local building codes and regulations.
Make sure your bathroom plumbing and bathroom electrical is always done by a certified professional.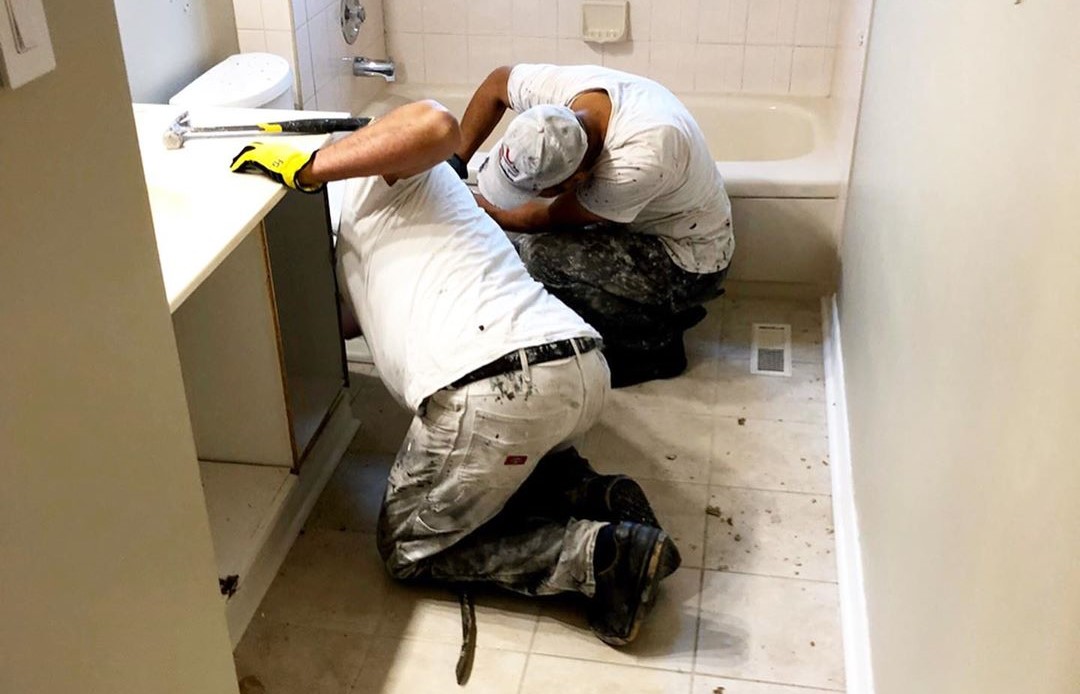 Bathroom Vanities
There are a multitude of options when it comes to vanities from shape and size to colour and number of sinks.
Whether it's the free-standing, wall-mounted or pedestal variety you're looking for, the vanity experts at Refined Homes can install your dream vanity and make sure that the focal point of your bathroom is simply stunning.
The Refined Renos Advantage
Are you searching for the "best bathroom renovation North York?" Are you ready to design the bathroom of your dreams? Refined Renos is the number one bathroom contractor in North York. We'd be happy to put you in touch with our endless list of satisfied clients.
Contact Refined Renos today to book your free consultation.