Bathroom renovations are one of the most popular types of renovation projects homeowners embark on. There are so many possibilities, and more and more homeowners are understanding the significant value added to their homes simply by upgrading their bathrooms.
Whether it is to increase more functioning space in your bathroom or upgrade some of the fixtures, you can never go wrong with a good bathroom renovation idea, the right quality materials and expertise. There are a number of different factors that come into play when you are renovating your bathroom.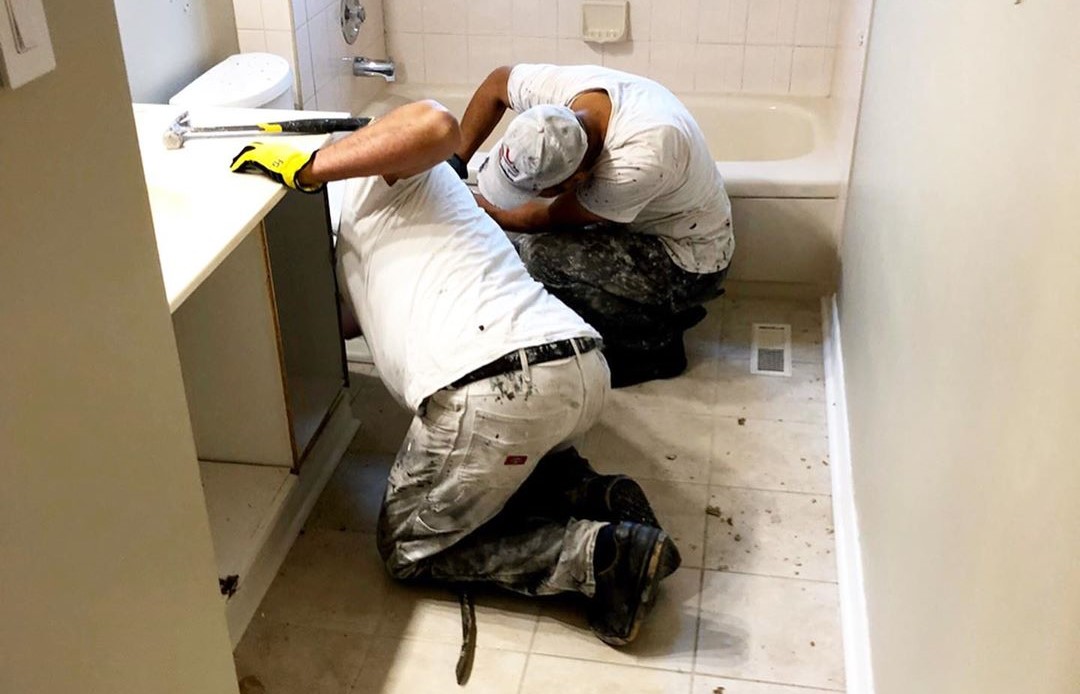 First, you need to take into account the size of your bathroom, the quality of materials in your bathroom, how you plan to upgrade them and the scope of the bathroom renovation project. All of these different factors affect your bathroom renovation costs.
In order to renovate your bathroom, there are a series of steps that must take place which include demolition, plumbing work, electrical work, updating fixtures, tiling, cabinetry, painting and more. By taking apart these various factors and looking at them individually, you can get a good sense of what it will cost to renovate your bathroom.
Sometimes the idea of renovating a bathroom can be intimidating due to concerns over the cost. It's important to note that bathroom renovations do not have to all be done at once, neither is it necessary to do a complete overhaul of your bathroom unless there is a specific need to.
Renovations can be simple and conducted over a period of time. Homeowners who may not have all of the money upfront for their bathroom renovation project may choose to focus on one particular area of their bathroom at a time and work their way through, making small changes over time. The important thing is to have a plan and to work with your budget.
Average Cost Bathroom Renovation
A bathroom can be classified into three categories based on the size of the bathroom, the scope of the project and the location of the house. To give you an idea of what you can typically expect to pay for bathroom renovations, we have listed the average cost of bathroom renovations.
Small Bathroom
For a small bathroom, which is typically about 5×8 square feet, you can expect to pay roughly $9,200 to $12,300 for a budget conscious renovation. However, if you are doing a major upgrade and furnishing it with luxury items, you can expect to pay anywhere from $18,500 to $22,600.
Mid-size Bathroom
An average sized bathroom of about 10×10 square feet will cost approximately $12,300 to $14,400 to renovate on the low end; $19,500 to $25,700 for a high-end renovation; and anywhere from $25,700 to $30,900 for luxurious features.
Large Bathroom
Large bathrooms on average can cost anywhere between $14,400 and $18,500 for an economic renovation. For a standard bathroom renovation, you can expect to pay $18,500 to $25,700. But if you are going for a state-of-the-art renovation, expect to spend anywhere between $30,900 and $41,200 on average.
Bathroom Renovation Cost Breakdown
One of the things to keep in mind when you are discussing cost with a contractor is that they typically include the cost of sub-trades in their quote. However, it's important that this is clarified in the agreement you sign.
Demolition
We recommend you have an expert for demolition work, particularly if you're doing a complete wall to wall removal. This is because the risk of water damage is particularly high. The average cost of demolition is about $1,500, which includes the demolition and the cleanup work afterwards.
Plumbing & Electrical Work
Anytime you need work done that involves plumbing and/or electricity, you need to hire a professional who is licensed. All plumbing and electrical work completed anywhere within Canada requires a license, which is why it is expensive to have this type of work done. It will likely cost you about $70 to $120 per hour. Pot lights will cost you roughly an additional $250 each but this includes the installation cost.
Tiling
The cost to tile for tiling can vary drastically because it depends on the quality of the material and the style. For example, porcelain tiles are more expensive than ceramic tiles however porcelain tiles are easier to clean and more durable than ceramic tiles. So over time, porcelain tiles will end up costing you less. If you'd like to go with marble mosaics, you can expect to pay anywhere from $10 to $100 per square foot, largely depending on the design. Installation costs typically range between $5 to $15 per square foot.
Bathroom Countertop
Many homeowners choose to go with engineered stone or natural material for the bathroom countertops. The cost is largely impacted by the grade of the material but you can expect this to cost you between $50 – $200 per square foot for stone materials. This includes installation cost. While wood is a less popular material for bathroom countertops because it absorbs moisture, some homeowners choose to use wood for their countertops. The quality of the woods is a large factor in the cost and the range is typically from $30 to $150 per square foot. This however does not include the installation cost.
Vanity
The vanity in your bathroom is really what gives the finishing look and sets the tone of your bathroom. Wood vanity can typically cost upwards of $2,000, not including the installation. If you decide to go with other types of materials, you can expect to pay anywhere from $500 to $1,500 and an additional $300 to $600 for installation.
Labour Costs
There are particular tasks that include labor costs such as painting. You can expect to pay an extra $1,000 – $2,000 for labour costs for a mid-size bathroom. Be sure to check with your contractor to find out whether the initial quote includes labour cost. Since this varies from contractor to contractor, we recommend you get quotes from several contractors before you make your final selection.
Bathroom Ideas On a Budget
If you are working with a tight budget, there are a number of things that you can do to reduce the cost of renovating your bathroom.
Limits your tiles
It's easy to look at the cost of individual tiles and not realize how quickly it all adds up. To save some money, limit the number of tiles and reserve them for high impact areas in your bathroom. For example, tile your floor instead of the interior of your shower wall (use paint instead).
Save on countertops
People tend to like neutral colours like tan, brown and light beige for their bathroom countertops, making these more expensive options. To save some money, choose a colour that is less popular – it will likely be cheaper.
Paint
Use paint to brighten up your bathroom and upgrade it. Paint has a way of adding vibrancy to your bathroom and giving it a new look without costing you a lot.
Update fixtures
Updating light fixtures, sink faucets, and towel racks can make a huge impact but are relatively small investments. It may not seem like much, but these subtle changes can make quite a difference in your bathroom.
Reuse your fixtures
Buying a new bathtub will be expensive to do, however, having your old tub relined professionally is a much cheaper option. Keep in mind that this cannot be done with all bathroom fixtures. Doing this with your sink or shower fixtures will end up costing you significantly more than just replacing them.
Buy used
Consider purchasing some of your fixtures used. There are many websites you can purchase used doors, mirrors, sinks, toilets and bathtubs from.
Go green
When you're looking at the overall and long-term cost of renovating your bathroom, consider going with some eco-friendly fixtures which will help you conserve water and also save you money. Water-saving shower heads and faucets tend to cost the same – and in some cases less – than traditional ones.