Professional Renovation Services We Provide
BATHROOM RENOVATIONS TORONTO
We Service North York, Vaughan, Richmond Hill, Markham, Thornhill, Aurora,
Newmarket, Bradford, Alliston, Barrie & More
Reliable Bathroom Specialists in Toronto
Finding reputable contractors who specialize in bathroom renovation in Toronto can be a feat. With so many renovation companies claiming to be bathroom specialists, it may be difficult to sift through and find one you can count on.
At Refined Reno, we take pride in offering you quality bathroom renovation services that are unmatched. There is simply no better choice for bathroom renovations than Refined Renos. Our valued customers often tell us that our work is impeccable because we pay attention to detail. Our goal is to ensure that we exceed your expectations every step of the way.
Remodeling a bathroom requires a great deal of skill. Hiring the wrong company can cost you a lot of money to fix errors. That's why working with experienced bathroom specialists like Refined Renos is your best bet.
Our team of highly trained bathroom contractors is known for excellence. We are intentional about everything we do and we go the extra mile to provide reliable bathroom renovation services that are convenient and budget-friendly. We are proud of the relationships we've established in the Toronto area, and continue to work to expand to other regions.
A bathroom renovation is a great starting point for your home remodel, and this is where Refined Renos comes in. We offer bathroom renovation services to GTA homeowners without ever compromising the bathroom renovation quality for the sake of cutting time. Our attention to detail is impeccable because our team of bathroom renovation contractors get down to the nitty-gritty of your bathroom remodel.
Further, we can implement creative bathroom renovation ideas, making our customers' vision come true in the most innovative ways. Trust that no matter how complex your bathroom remodel is, with our skill and expertise, we can turn your project into an easy bathroom renovation. We encourage you to tell us your wildest bathroom design ideas. With us, it might not be so wild after all.
No subcontractors: only the best in-house bathroom remodelling crew in Toronto. Taking bathroom renovation up a notch and offering professional bathroom remodelling, our experts are more than ready to help. Since a lot of bathroom remodelling jobs require some demolition and reconstruction, a simple bathroom renovation will not do. In this case, you need to hire a bathroom remodelling contractor to assist you. And this is where Refined Renos comes in.
Strictly following the Ontario Building Code and zoning bylaws, our team of bathroom experts aims to complete every bathroom remodelling project to a tee. Our bathroom remodel service includes flooring installation, replacing old plumbing, replacing old bathroom fixtures with new parts, tub-to-shower conversion, and much more.
Bathroom Renovation Cost in Toronto
Here are some projects we accomplished and their quotes
7×9 sq.ft Bathroom
*Finish materials not included in price
9X12 sq.ft 4 Piece Master Bathroom
*Finish materials not included in price
15X8 sq.ft Bathroom
*Finish materials not included in price
Bathroom Renovation Done Right
Experienced bathroom contractors
Fall in love with your new custom bathroom by Refined Renos. Not only do we offer our valued customers great bathroom ideas and designs, we are able to customize your bathroom to meet your specifications. We're happy to give you a peek into our showroom so you can see a wide range of the various samples we have to offer. This will give you an idea of the quality of work we perform. Whether your bathroom renovations are extensive or minor, we'd be happy to show you all the possibilities available for your home. We are your trusted bathroom renovation experts in Toronto. We work on bathrooms of all sizes – from half baths to master bathrooms and everything in between. Our team of contractors gets the job done right every time. When you book an appointment with us, we'll walk you through each step of the process, Count on Refined Renos for superior bathroom remodeling in Toronto.
A bathroom designed based on the principles of universal bathroom design should be comfortable and safe for all family members. Therefore, At Refined Renos, we provide accessible bathroom and shower renovation options compliant with the Americans with Disabilities Act (ADA). Remodelling for a handicap bathroom starts here.
Our accessible bathrooms and showers aim to create a more practical space, specifically built to the homeowners' personal needs. This includes installing barrier-free showers, grab bars in the shower and on each side of the toilet, flip-down shower seats, and much more. With the variety of handicap accessible bathroom designs we provide, your new bathroom will be constructed exactly to your comfort.
Our selection of bathroom vanities, toilets, sinks, tubs and showers have all the sophistication and modernity you could ask for. We carry and install a massive variety of fixtures which will fit in great with any new bathroom design and will be installed by one of our master plumbers.
With classical and modern designs, we employ experts dedicated to providing homes with fully customized cabinets that fit any interior. We provide custom storage solutions, closets and vanities to match your bathroom's size and shape.
Upgrade your old shower enclosure to a walk-in shower experience, and create a more functional, accessible bathroom.
Many homeowners are choosing to get rid of their old tub, and installing a walk-in shower instead, making your bathroom more comfortable and functional. We specialize in creating beautiful, modern shower enclosures for every bathroom interior.
Our master plumbers are skilled and knowledgeable, having completed hundreds of plumbing jobs throughout the GTA. There is no plumbing problem or installation our company cannot overcome. We specialize in tricky, difficult and custom bathrooms, meaning that we are ready for any plumbing challenge you set down before us.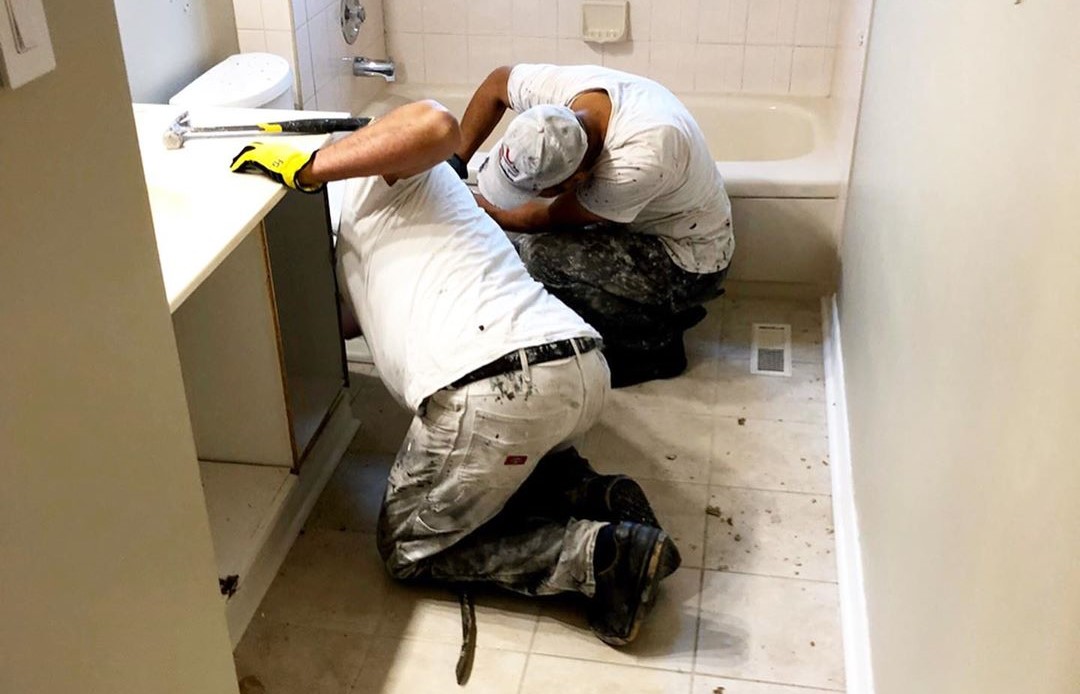 Upgrade your bathroom tile and flooring, choosing from a section of our quality designs, colours and styles. Or select your own floors or tiling and allow us to install it for you, to create the beautiful bathroom interior you've always dreamed of.
We offer completely custom bathroom construction and finishing, taking advantage of existing plumbing or installing new. We provide a full range of construction services, including basement bathroom finishing, bathroom construction and addition, and custom plumbing services. There is no problem we cannot solve- call us today to schedule your free, in-home consultation and 3D digital plan.
This error message is only visible to WordPress admins
Error: No posts found.
Make sure this account has posts available on instagram.com.